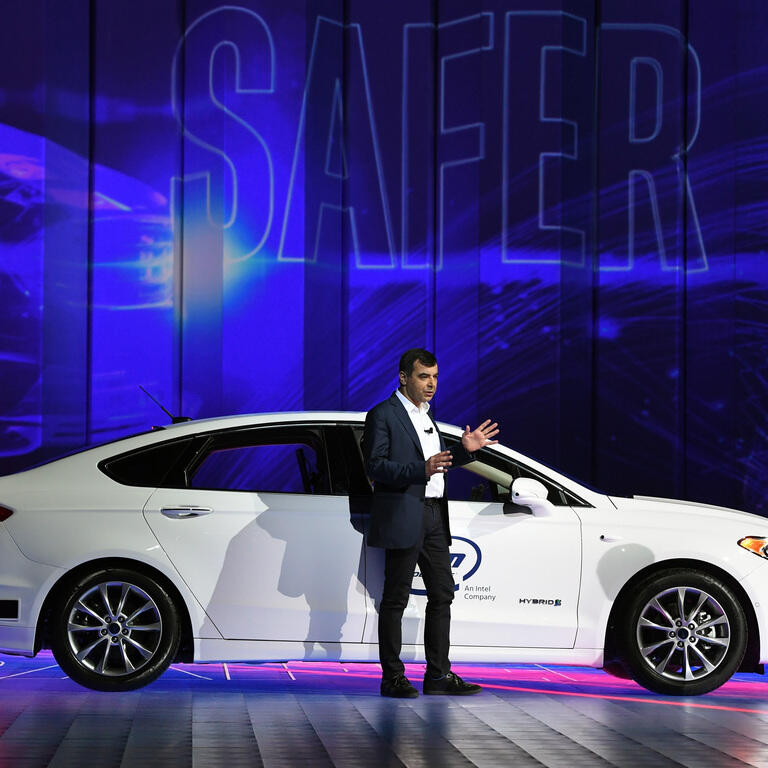 Investment Thesis
In a significant bit of news that likely went largely unnoticed by the investment community, not Tesla (TSLA), Nvidia (NVDA) or anyone else, but actually Intel (INTC) Mobileye achieved a major milestone in late 2021 by going into volume production of its camera-only SuperVision autonomous driving system. Combined with Mobileye's robotaxi business that will start operating in two international cities in 2022 (based on a camera-based system combined with a lidar and radar-system), this means autonomous driving has finally gone from the lab to the fab, and is poised to contribute billions or even trillions in value to the economy as the technology gains scale in the coming years and decade(s).
In addition, perhaps the most significant news from CES this week was the announcement of the world's first L4 consumer AV, slated for an early 2024 launch, yet again beating others such as Tesla to the punch.
As such, Mobileye could become one of the new Big Tech companies as the backbone of the 21st century autonomous transportation system. Hence, I initiate Mobileye (which will IPO in mid-2022) at a $1T market cap target, which could represent 20x upside from its suggested $50B IPO.
Background
I have previously detailed how Intel has dropped bombs on (1) the silicon AI market, (2) 5G networking and (3) the semiconductor industry.
SuperVision
When people talk about autonomous driving, there is one myth that is often discussed: the need for compute (measured in TOPS). For that reason, many investors have pointed to Nvidia as a beneficiary of autonomous driving. For example, NIO (NIO) uses 4x Nvidia Orin SoCs in its upcoming ET7 NIO Autonomous Driving System, for a grand total of 1 POPS (1000 TOPS), combined with over 30 sensors including lidar.
I provide this comparison to give the reader an impression of just how impressive Mobileye's approach is: Mobileye's SuperVision, which has gone into production in late 2021 in the Geely Zeekr 001, leverages just two EyeQ5 SoCs for a grand total of 30 TOPS. Nevertheless, despite having over 30x less compute resources, Mobileye achieves pretty much exactly the same (or even more advanced) capabilities as any other car currently in production. Mobileye's system also uses about 3x less sensors since, similar to Tesla, SuperVision is completely camera-only (using seven cameras and four parking cameras).
To be specific, the SuperVision allows for completely hands-free driving (like a robotaxi or "full self-driving"). (The reason the system is nevertheless classified as L2+ is because it isn't validated for the safety requirements for L4.)
In other words, it really matters what one does with the compute resources available (the software), and Mobileye has proven for years that it can do more with less. What this means is simply that Mobileye's software is much smarter since it can more effectively make use of the available compute. Mobileye's CTO has recently provided a deep dive into the SuperVision system, which is worth watching to see the system in action in cities like Paris and New York City. Note that no other company in the world has been testing its autonomous driving system in as many locations as Mobileye, another testament and proof point of Mobileye's ability to scale its system, which I further detailed previously: Waymo May Be Disrupted By Its Inability To Scale (NASDAQ:GOOG).
Consumer AVs
SuperVision is still just a L2+ system: despite being fully capable of autonomous driving, it has not been validated for the reliability requirements for the "holy grail" L4. So admittedly, it will still take a few years for autonomous driving to become a reality for consumer: Mobileye is targeting 2024.
In its L4 system, in order to reach the required reliability, Mobileye will combine the camera-only SuperVision system with a second system based on lidar and radar (similar to its approach in robotaxis). Mobileye has even suggested perhaps there could even be three subsystems if the lidar and radar are further split into separate systems, which will become possible due to Mobileye's in-house lidar (based on Intel's industry-leading silicon photonics) and innovative high-resolution in-house software-defined radar. Mobileye especially sees the high-res radar as promising to reduce the cost for affordable AVs since radar is inherently 5-10x less expensive than lidar.
So although it could be debated if and to what extent the recent SuperVision system counts as "full self-driving", it nevertheless serves as a first proof point that autonomous driving has finally gone from something that perpetually seems five years away, to a tangible commercial reality.
In any case, Mobileye's grand announcement at CES was its very first L4 design win with Geely Zeekr, slated for early 2024. This system will be based on 8x EyeQ5 SoCs (or about 120 TOPS).
Mobileye further announced its next-gen SoC for widespread adoption of AVs starting in 2025. The EyeQ Ultra is touted as Mobileye's AV-on-a-Chip, providing all compute resources in a single chip. It is one of the most heterogenous chips ever created, containing CPUs, GPUs, NPUs, FPGAs, VPUs and more.
At a mere 176 TOPS, the EyeQ Ultra is much more efficient than other AV solutions, delivering the necessary performance and price-point required for consumer-level AVs.
Robotaxis
In addition to extending its current industry-leading position in ADAS into AVs, Mobileye saw several years ago that autonomous driving would first start with robotaxis, and has likewise been investing to lead this new industry (as evidenced by the 2020 Moovit acquisition for example). Mobileye has been testing its robotaxis for many years in Israel, expanded its testing to Munich/Germany in late 2020, and further expended testing to many other cities in 2021, including in Detroit, Paris, Asia, Tokyo and New York City.
This will culminate in the initial robotaxi launch in Tel Aviv and Munich in mid-2022, which is on schedule to what Mobileye has been saying since 2018 (!). This can't be emphasized enough since in the same time frame, virtually all of Mobileye's competitors including Google (GOOG) (GOOGL) Waymo, Tesla and GM (GM) Cruise have seen delays to their programs. Mobileye is on track to what it said four years ago, and is targeting an international rollout from the start (made possible due to Mobileye's unique global mapping approach as opposed to the legacy geofenced approach).
ADAS
Mobileye also announced several extended ADAS partnerships at CES, including ones to bring its REM mapping for lane-centering ADAS to Volkswagen (OTCPK:VWAGY) and Ford (F).
Mobileye further announced that it had achieved 41 design wins totalling 50M units in 2021. For comparison, Mobileye shipped its 100 millionth EyeQ in late 2021.
200PB of data
One oft-heard argument is that supposedly only Tesla has the data and has the Dojo supercomputers. This is false, as Intel detailed Mobileye has 200PB of data and 500k CPU cores:
Mobileye has spent 25 years collecting and analyzing what we believe to be the industry's leading database of real-world and simulated driving experience
Valuation
Given Mobileye's nearly flawless execution to its comprehensive vision and strategy, Mobileye is quickly establishing a tangible leadership position in both robotaxis and consumer AVs. As such, I would argue that Mobileye deserves a premium valuation as one of the upcoming new Big Tech companies.
As such, the sky is the limit. For example, Tesla investors for years have attributed trillion-dollar valuations to the company based on the promised (but never delivered) 1 million robotaxis in 2020. Clearly, not Tesla but Mobileye is now making this premise a reality.
Investors should note that robotaxis are inherently poised to be very profitable since they remove virtually all opex costs, by removing many thousands (if not millions) of drivers from the (transportation) economy. This will make robotaxis both cheaper and more profitable than legacy ride-hailing services like Uber (UBER), Lyft (LYFT) and DiDi (DIDI).
As such, there is indeed no reason why Mobileye shouldn't be able to aspire to this $1 trillion market cap target, which is indeed the target I initiate Mobileye coverage at.
Risks
Given Mobileye's progress on the technology side, which as detailed is now being translated into numerous commercial deals, the main risk now is regulation. However, Mobileye has already said it is on track to operate its robotaxis in Germany and Israel without safety driver by the end of 2022.
Investor Takeaway
Although the Geely Zeekr 001 launch with Mobileye's camera-only autonomous driving system went largely unnoticed, it represents a significant first milestone towards the ultimate blue sky vision of an economy based on driverless transportation, freeing up potentially many millions of jobs. The value this creates will be immense, and hence Mobileye, as the leader in driving this revolution, should be valued exactly as such.
The next milestone is slated in the next few months already with the start of Mobileye's international robotaxi business. The next milestone after that will be the completion of Intel's in-house lidar and radar, which will bring the cost down to levels suitable for mass production in consumer vehicles. This is targeted for early 2024 (also in partnership with Geely Zeekr), and will likely be the world's first commercial L4 consumer AV.
Hence, autonomous driving is quickly becoming a commercial (and profitable) reality, for which the mid-2022 Mobileye IPO provides investors with potentially one of the best investments for the coming decades.