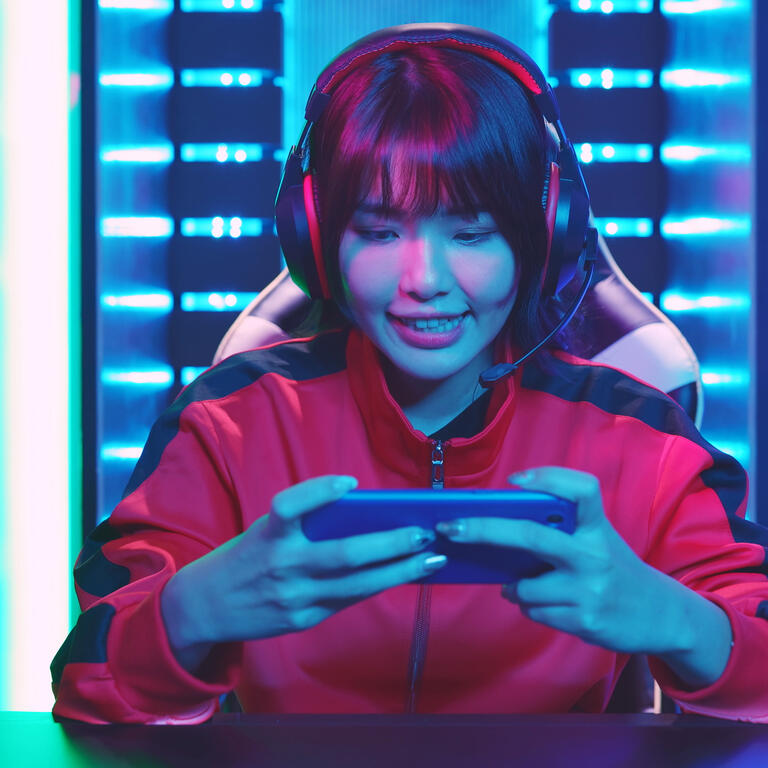 This article was prepared by Jenny.T in collaboration with JR Research.
Investment Thesis
Skillz Inc (SKLZ) is a technology company that develops multiplayer mobile video games, with more than 2B tournaments hosted in 2020. The company earns its revenues through transaction fees in the range of 16% to 20%. SKLZ also boasts a high payer conversion rate of 17% to 19%, compared to in-app purchasing models at 2%. Moving forward, the company believes that it can achieve a 40% conversion rate through future investments and/or acquisitions. For example, in 2021, the company acquired Aarki, to leverage its AI-enabled advertising and invested in Exit Games, to expand its game offerings into popular Multiplayer Racing, Shooting, and Fighting Games. In September 2022, SKLZ is also expected to launch an NFL-themed game for 250M fans around the world.
We discuss whether investors should add SKLZ stock now. We encourage you to read our recent articles on SKLZ, which would help you better understand its business model and market opportunity.
SKLZ Leverages On Debt To Finance Future Investments And Acquisitions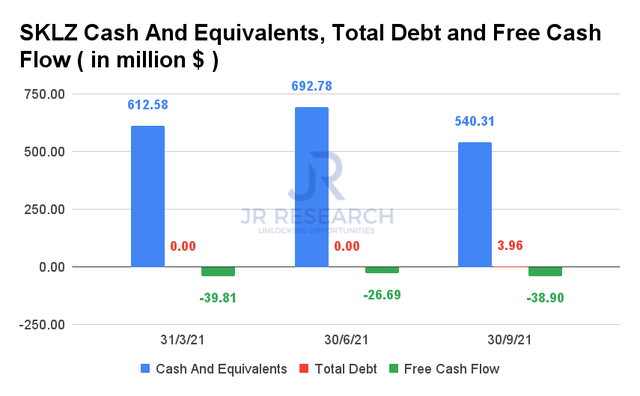 SKLZ Cash and Equivalents, Total Debt, and Free Cash Flow. Data source: S&P Capital IQ
On 15 December 2021, SKLZ raised $300M of Senior Secured Notes due 2026 at 10.25% interest. The 10.25% interest rate is on the high side, as the typical interest rates for corporate bank loans range between 3% to 13%. Nonetheless, these are also for lower bank loan amounts, typically below $12.375M. Nevertheless, the debt of $300M will help to increase SKLZ's cash and equivalents in its balance sheet to over $800M for future investments or acquisitions. We also noted that SKLZ has minimal debt in its balance sheet as of FQ3'21, with only $3.96M reported. As a result, we expect minimal issues in its future debt servicing.
One important example of SKLZ's expansion is the acquisition of Aarki, a leading AI-enabled advertising and marketing platform, in June 2021. With over 5T of Aarki's monthly advertising auctions and 1.8B of SKLZ daily data points, SKLZ hopes to predict user conversion and spending rates more accurately moving forward. The company would then leverage this information to increase its user engagement while also promoting its popular games more efficiently. To further improve Aarki's performance in games advertising and marketing, SKLZ will also be periodically increasing its spending on the platform. As a result, we are certain that the company can achieve its goal of a 40% paid user conversion rate moving forward, which is more than double its current rate.
In August 2021, SKLZ also invested in Exit Games, as the company hopes to expand into Multiplayer Racing, Shooting, and Fighting Games. These games made up 17% of global game downloads in H1'20. As a result, SKLZ hopes to increase the number of its active users by tapping into Exit's expertise as Exit's Photon multiplayer technology currently boasts over 480M Monthly Active Users (MAU) every month. In addition, during its FQ3'21 Earnings Call, SKLZ reported that it has recently launched a game, Big Buck Hunter: Marksman, which helped increase its MAU by 25% YoY. Furthermore, SKLZ also launched Trivia Crack Payday, in collaboration with Trivia Crack. Based on SKLZ, Trivia Crack is currently the most popular trivia game globally, with about 40M MAU. As a result of its strategic expansions and partnerships, we expect SKLZ to aggressively increase its MAU beyond the latest 3M users in FQ3'21, once the multiplying synergies are realized.
Furthermore, with the NFL-themed mobile games expected sometime in September 2022 before the NFL season, we can expect increased hype over the newly developed game, especially since it will enjoy marketing support from both the NFL and SKLZ. The NFL currently has 190M fans in the US, with 63.7M fans from other countries like Canada, the EU, and China. Furthermore, the NFL expects an additional 50M international fans moving forward due to its international marketing campaign. As a result, with an estimated 300M of NFL fans, we can expect massive success for the newly developed NFL-themed mobile games. In addition, the multi-year collaboration between SKLZ and NFL would potentially bring in recurring revenues and convert many fans into long-term SKLZ mobile game users.
On 3rd January 2022, SKLZ also finally launched in India. As of November 2021, there are approximately 300M mobile gamers in India, valued at $1.8B. The market is also expected to grow rapidly at a CAGR of 29.1%, to reach at least $5B by 2025. Furthermore, mobile gaming in India has a significant market share of 86% of the total gaming market, compared to the US at 67.4%. Though India's spending power is lower than the US, the increase in MAU would potentially drive down SKLZ's cost per install moving forward.
SKLZ is making considerable strides in developing the company's "100-year vision for building the competition layer for the internet." In addition, we expect more investments and acquisitions moving ahead as the company seeks to "expand the gaming ecosystem through meaningful competition." As a result, we expect the company to report excellent performance over the next five years with consensus estimates of SKLZ revenue growth at a CAGR of 26.63%. However, it represents a deceleration of revenue growth, compared to the historical CAGR of 89.02% in the past three years. Nonetheless, SKLZ management has guided positive EBITDA by FY2023, though consensus estimates profitability by FY2024.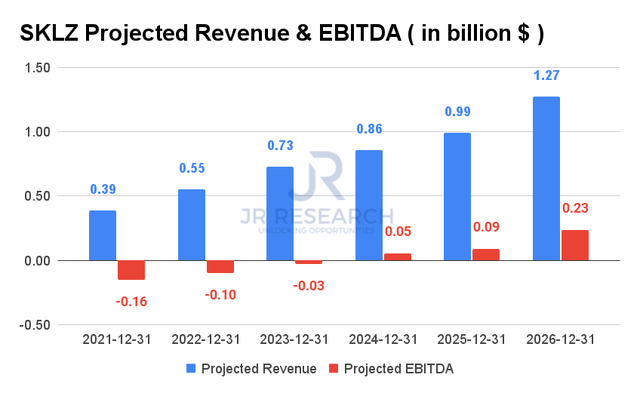 SKLZ Projected Revenue and EBITDA. Data source: S&P Capital IQ
The Future Of Mobile Gaming Is Promising Globally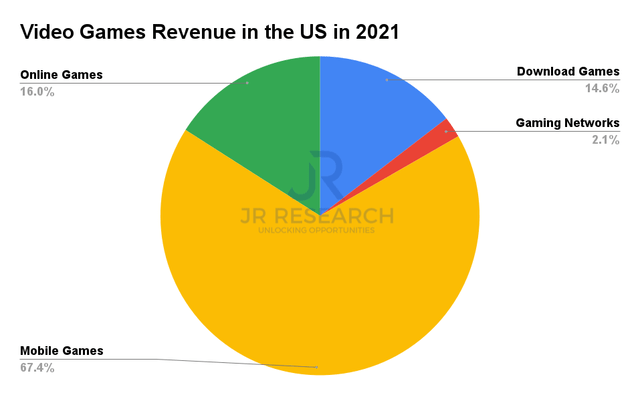 Video Games Revenue in the US in 2021. Source: Statista
In 2021, global mobile gamers were expected to spend $89.6B, representing an increase of 12.5% YoY. It will account for 67.4% of the global market share for gaming revenues, compared with other gaming platforms, such as online games, download games, and gaming networks. In the same year, though global mobile games' market share is expected to decline by 4.3% YoY from 71.7% in 2020 to 67.4% in 2021, the US market share is expected to increase by 0.6% YoY from 66.8% in 2020 to 67.4% in 2021. We expected the normalization due to the pull-forward growth experienced during the global lockdowns caused by the COVID-19 pandemic.
Nonetheless, in the US, mobile games are expected to report revenue of $20.45B in 2021, representing an increase of 12.05% YoY. Furthermore, mobile game users in the US are also expected to increase by 3.6% YoY to 155.9M, aided mainly by the lockdowns during the COVID-19 pandemic. As a result, it is evident that the US market accounts for high spending for the gaming market, with each US gamer spending an average of $130 in 2021.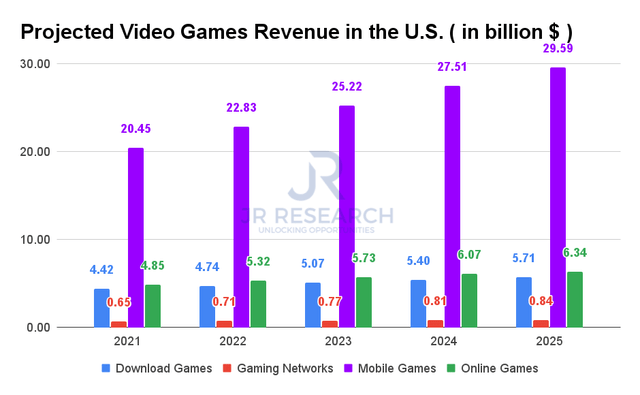 Projected Video Games Revenue in the US. Data source: Statista
Global mobile gaming revenue is expected to reach $138B by 2025, growing at a CAGR of 11.4%. US mobile gaming revenue is also expected to grow rapidly to $29.59B by 2025 at a CAGR of 9.68%, accounting for up to 21.4% of the market share at that time. In addition, the number of global mobile gamers is expected to grow from 2.69B in 2020 to 3.07B by 2023, at a CAGR of 4.5%, while US mobile gamers are expected to reach 168.8M by 2023. As a result, it is evident that the market potential for mobile gaming is huge moving forward.
So, Is SKLZ Stock A Buy?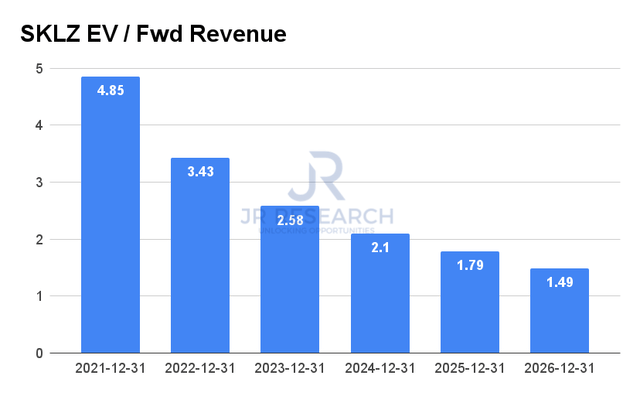 SKLZ EV/Fwd Revenue. Data source: S&P Capital IQ
SKLZ is currently trading at an EV/NTM Revenue of 3.71x, lower than its 1Y mean of 16.2x. The company is also projected to report excellent growth over the next five years, which we can observe from its EV/Fwd Revenue trend. As a result, it is evident that SKLZ currently looks attractive and under-valued.
However, given that consensus estimates that it will not report EBITDA profitability in the next two years, SKLZ may have to rely on more and more debt for future investments and acquisitions. Nonetheless, debt leveraging is typical for nascent companies. Furthermore, the company is expected to report $230M of annual EBITDA by 2026, with an estimated ratio of debt/ EBITDA of 1.32 at that time, assuming no additional debt. As a result, we are confident of SKLZ's capability in managing its risks while growing its revenue and MAU aggressively moving ahead.
Given SKLZ's valuation and prospects moving forward, we rate SKLZ stock at Buy for speculative investors only.