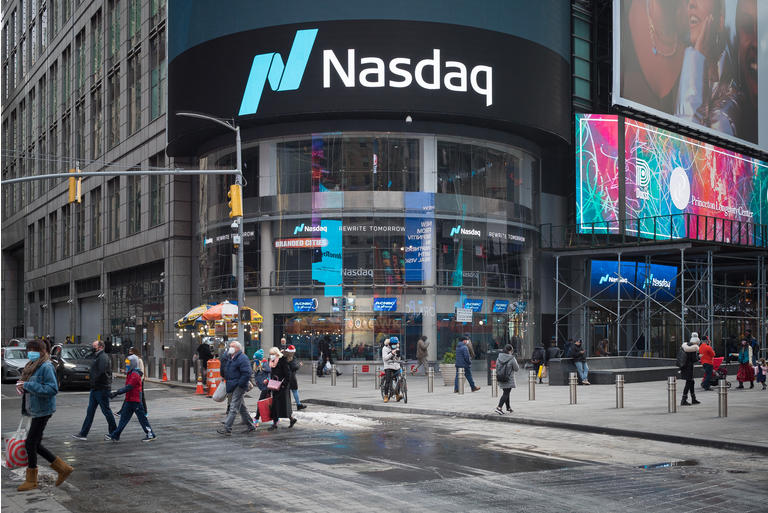 Investment Thesis
The Nasdaq-100 hasn't had a great start to the new year. The tech-heavy benchmark is down 4.52% through the first week, or almost 3% worse than the S&P 500 Index (SPY) and 5.57% worse than the S&P 500 Value Index. The gauntlet has been thrown down for growth investors and believers in mega-caps like Apple (AAPL), Amazon (AMZN), and Tesla (TSLA). Is this a buying opportunity for world-class companies, the continuation of a trend where value stocks take center stage, or something different? This article will look at some of the Index's key fundamental metrics and attempt to shed some light on how to play it during the upcoming earnings season.
My position is that although the Invesco Nasdaq 100 ETF (QQQM) and its more established cousin, the Invesco QQQ ETF (QQQ), have performed poorly this year, there is still more room to fall. The Index's price-earnings ratio is too far above the S&P 500 Index. Last quarter's results failed to provide much of an earnings surprise. And, analysts continue to lower their earnings expectations for the next quarter. Therefore, investors should accept the trend and avoid QQQM and QQQ until at least the next month when most of its constituents report next. If I'm right and they fail to impress again, that's when you'll get some excellent buying opportunities for some of the best-run companies on the planet.
QQQM Overview
Comparison With QQQ and SPY
The Nasdaq-100 Index includes 100 of the largest domestic and international non-financial companies listed on the Nasdaq Exchange. QQQ is the most popular product, but QQQM is slightly cheaper (0.15% vs. 0.20% expense ratio). Being less popular, QQQM's median bid-ask spread (a measure of liquidity) is marginally higher (0.01% vs. 0.00%), but its total cost of ownership works out in QQQM's favor. Birds of a feather, though, since the two have provided near-identical returns since QQQM's inception in October 2020.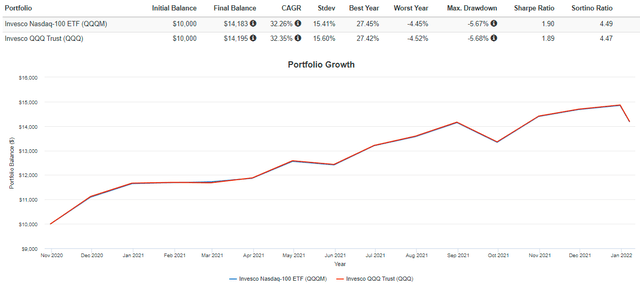 Source: Portfolio Visualizer
QQQ has been a great investment in the last 20 years or so. Since April 1999, it's earned an annualized 9.75% return, which includes an 81% drawdown during the tech-crash of the early 2000s.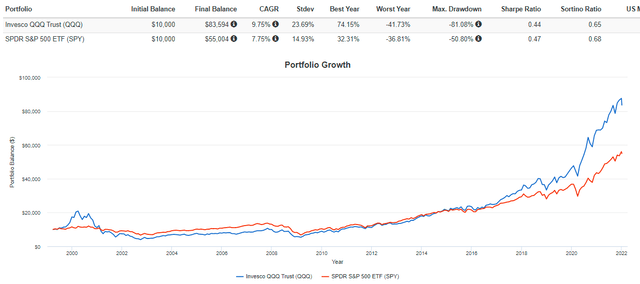 Source: Portfolio Visualizer
That period is unlikely to repeat, however, as today's technology stocks are some of the most profitable in the world. In my view, the more relevant data is the returns for the last five and ten years. As the data below indicates, QQQ has outperformed SPY by over 10% over the previous five years and has done so with only slightly higher volatility.

Source: Portfolio Visualizer
Let's face it. A solid allocation to Technology stocks is necessary these days to keep up with market returns. It's something value investors tend to ignore based on some arbitrary limit placed on a company's price-earnings ratio or a requirement for years of consecutive dividend growth. Indeed, growth stocks have earned their stripes, but before I look at the fundamentals, let's review its current composition.
Sector Exposures and Top Holdings
Over 50% of the Index is in Technology stocks, followed by 18.46% in Communication Services and 16.39% in Consumer Discretionary. Health Care, Consumer Staples, Industrials, and Utilities make up a negligible part of the Index, and there is no exposure to the Financials, Energy, or Materials sectors. REITs are specifically excluded, as noted in the Index Methodology document.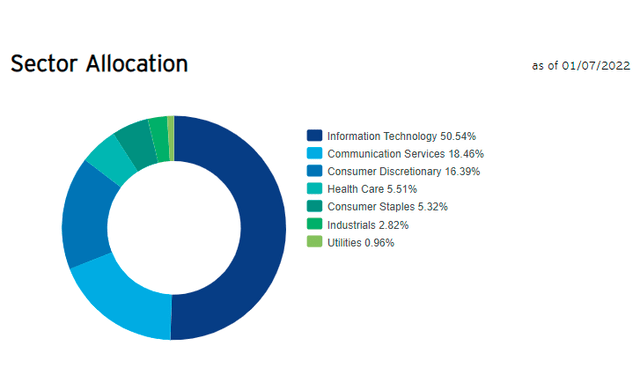 Source: Invesco QQQM ETF Overview
Mega-cap stocks dominate this Index, with none more prominent than Apple and its $2.81 trillion valuation. Next up is Microsoft (MSFT), which has a $2.36 trillion valuation, followed by Amazon and Meta Platforms (FB). Market capitalizations weight the Index, and these top ten holdings total 52.50% of the ETF.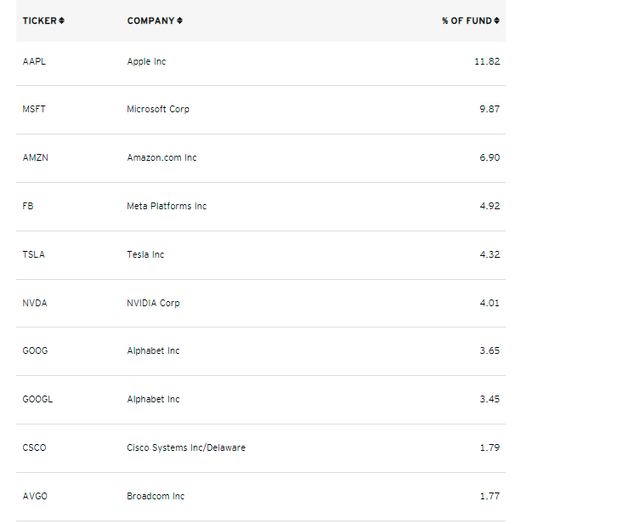 Source: Invesco QQQM ETF Overview
Index Snapshot
The table below gives a snapshot of the Index's valuation and growth for its top 20 holdings. The second-last row provides the net figures for the entire fund, while the last row provides the net figure for SPY for comparison purposes.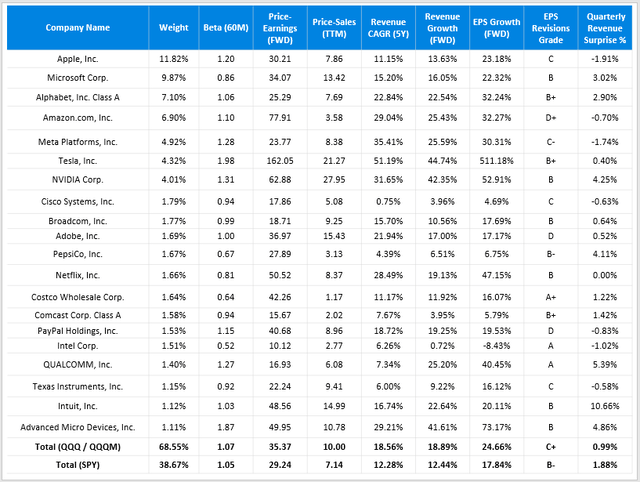 The Sunday Investor
Source: Created By Author Using Data From Seeking Alpha
For those interested, net figures were calculated using a weighted-average method after controlling for outliers. I opted to use Morningstar's cap of 60 for the price-earnings ratio and implemented a limit of 50% for the forward revenue and earnings growth rates. I did this to ensure no company could distort the fund's metrics enough to lead to a false conclusion.
First, it's worth noting how concentrated the Index is, with 68.55% of assets in the top 20 compared to 38.67% for SPY. However, as reported earlier in the Portfolio Visualizer graph, risk hasn't differed. The fund's five-year beta is another piece of evidence confirming this. Beta is a measure of volatility relative to the overall market, and it appears as though QQQ's constituents have been only marginally more volatile.
Where the Index differs is on valuation and growth. QQQ's forward price-earnings ratio, even after last week's slight selloff, is still 35.37 compared to 29.24 for SPY. It's also more expensive based on trailing price-sales (10.00 vs. 7.14), but as previously mentioned, these stocks have earned their stripes. The market isn't necessarily irrational for favoring them. After all, they have grown sales at an 18.56% annual rate over the last five years, which is more than 6% higher than SPY. Analysts are projecting the same for the next twelve months, too, and there's also a similar difference for forward EPS growth (24.66% vs. 17.84%). To take a growth-at-a-reasonable-price approach, investors could also calculate a fund's price-earnings-to-growth, or PEG, ratio, by dividing forward EPS growth into the forward price-earnings ratio. Doing so results in a figure of 1.43 for QQQ and 1.64 for SPY, so by this measure, QQQ is actually the cheaper fund to own right now.
Earnings Revisions and Surprises
Despite the positivity, my concern about QQQ at the moment stems from the last two metrics in the table above: a poor EPS Revisions Grade and a below-average revenue surprise in the previous quarter. While the EPS Revisions Grade suggests that Wall Street analysts are, in aggregate, looking to temper current expectations, poor revenue and earnings surprises serve to lower future expectations even further. It's a bad combination, and some of QQQ's most richly-valued stocks appear vulnerable at the moment. Let's look at a few of them closer.
Apple
Apple is one I'm watching closely, primarily because it will be among the first mega-caps to report on or around January 27. Unlike many Nasdaq-100 stocks, I don't have a serious concern with its valuation since its forward price-earnings ratio is about the same as SPY. However, last quarter's revenue miss caught me by surprise, and earnings failed to impress, too.

Source: Seeking Alpha
I suppose the market had just grown accustomed to double-digit earnings surprises, so I am interested in seeing if last quarter was a one-off or if it's part of a larger trend that will encourage investors to flee growth stocks in general.
Amazon
We all know how hugely successful Amazon is, but the company has struggled with supply chain issues and labor shortages in the last year. In the previous month, analysts' revenue estimates have fallen by 3.13%, and a similar story plays out through June 2023.

Source: Seeking Alpha
Though Amazon disappointed last year with only a 2.38% return, it did gain 76.26% the year prior, leaving longer-term investors more than pleased. However, price-multiples fluctuate based on investor enthusiasm, and the table below clearly shows Amazon had a lot of it during the last five years. For the quarter ending June 2020, earnings surprised to the upside by 543.08% when the pandemic started. Recall the headlines for that standout quarter, with one analyst at Goldman Sachs calling for a $4,200 price target and two others setting price targets of $4,000 and $3,750. These upgrades are terrific news for current investors, regardless of whether they are realistic, but too much enthusiasm eventually becomes unhealthy. For Amazon, it looks like earnings surprises began trending downward last year and culminated in the latest 31.21% miss. In my view, the company desperately needs a strong showing when it reports in early February. Otherwise, that forward price-earnings multiple of 77.91 will come down quickly.

Source: Seeking Alpha
Meta Platforms
Meta Platforms is another company that missed on revenue last quarter, its first since September 2018. Meta Platforms also happened to underperform SPY by 21% that year, which was the only negative year for the S&P 500 since the Great Financial Crisis.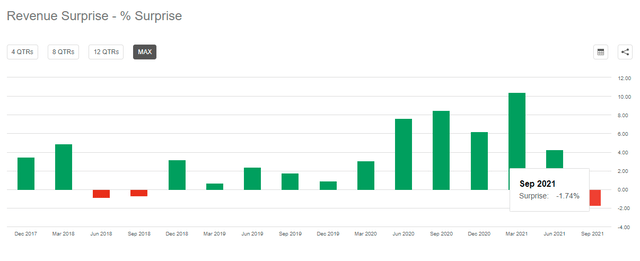 Source: Seeking Alpha
Mark Zuckerberg's company may be polarizing, but it's also a cash machine. Per its latest financials, it has $58 billion in cash and short-term equivalents, and its advertising business is as hot as ever. It makes up 97.5% of total revenues, and the growth rate is phenomenal.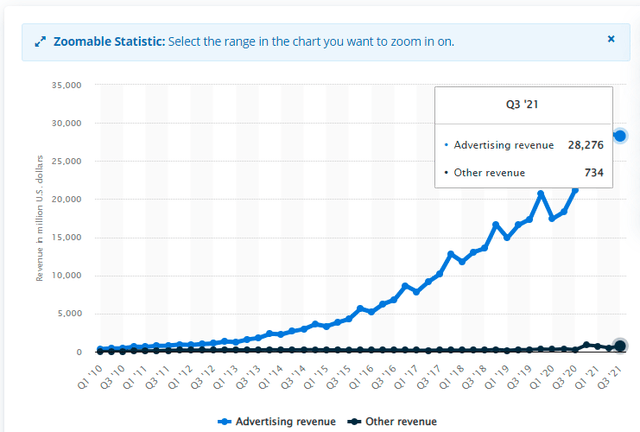 Source: Statista
However, analysts have made 19 downward revisions on EPS in the last three months compared to just four upward revisions. A second consecutive miss like what happened in 2018 could set the tone for the quarter.
Aggregate Earnings Surprises By Quarter
Apart from the last couple of years, the market isn't used to seeing huge earnings surprises. From 2010 to 2019, the average quarterly earnings surprise was only 5.06%, and the largest was in Q1 2011, when the S&P 500 had a 7.80% earnings surprise.
Then, from Q2 2020 to Q1 2021, earnings surprises were 23.40%, 19.70%, 17.10%, and 23.40%. Earnings surprises then fell to 16.90% and 10.80% in the last two quarters and seem to have taken investors' enthusiasm down with it. While 2020 saw QQQ beat the S&P 500 Value ETF (SPYV) by 47%, it outperformed by only 2.51% in 2021 and is underperforming by 5.57% YTD. If earnings surprises continue to fall, I believe investors will opt for safer plays in the value space instead.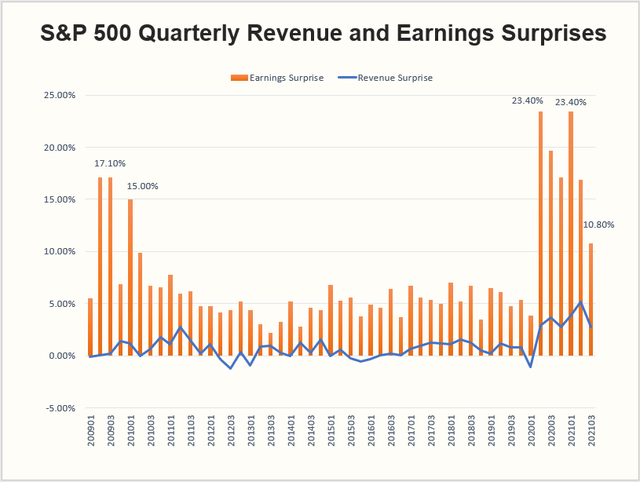 Chart: The Sunday Investor
Source: Created By Author Using Data From Yardeni Earnings Surprise Monitor
Looking at quarterly earnings surprises by sector, the declines are mainly attributable to the Communication Services, Industrials, Consumer Discretionary, and Technology sectors, which account for 88% of QQQ. Simply put, these sectors have the most to lose. I think there is a considerable risk in overweighting these sectors ahead of such a crucial earnings season.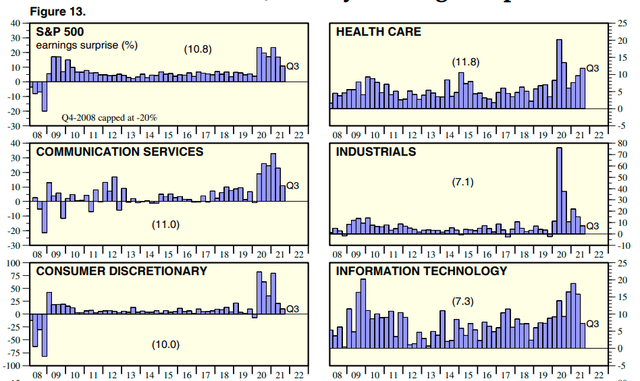 Source: Yardeni Earnings Surprise Monitor
Investment Recommendation
The Nasdaq-100 Index appears to have excessive risk at the moment, and it's not just due to its higher price-earnings ratio. Earnings surprises fell sharply in Q3 2021, and analysts are reducing their Q4 expectations faster for its components than the S&P 500 Index and S&P 500 Value Index. I am concerned it could be a painful quarter if mega-cap stocks like Apple, Amazon, and Meta Platforms fail to impress. While they are terrific long-term investments, and investors should maintain a healthy allocation to growth stocks in general, short-term expectations should be managed.
For those new to analyzing revenue and earnings surprises, I think it's a good alternative to using technical indicators to assess sentiment changes. In the long run, fundamentals ultimately win out. That is why the largest companies in the world are also the most profitable. However, short-term trends can assist investors in finding good entry points, and in my view, it's more likely you'll get a better one by waiting until the mega-caps report next. If all goes as expected and earnings surprises fall closer to their long-term 5% average, QQQ and QQQM could move into correction territory, providing you with a great buying opportunity. In short, be a little bit more patient and don't rush to buy the Index at current levels after last week's selloff. There's still more room for it to fall, and I look forward to providing an update after the next earnings season concludes.