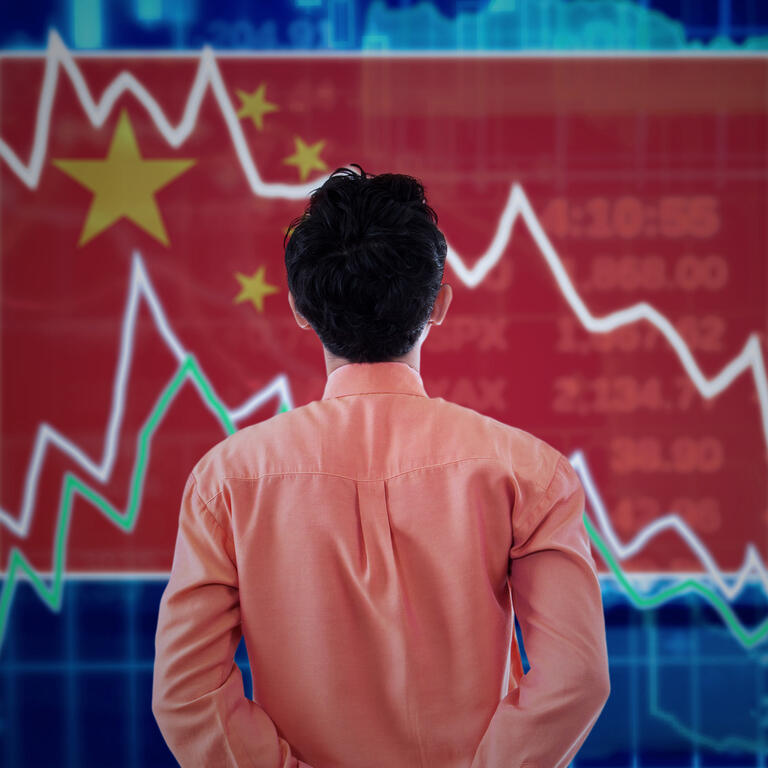 The KraneShares CSI China Internet ETF (KWEB) tracks the leading Chinese internet stocks listed in the U.S. and Hong Kong. This segment has underperformed amid a combination of mixed macro trends in the region along with a shifting regulatory environment in the country. Indeed, a government crackdown in 2021 through a variety of anti-trust probes and record fines has pressured sentiment in the region sending KWEB down by more than 50% over the past year. That said, we see value in the group with more attractive valuations on the correction into what remains a positive long-term outlook. We are bullish on KWEB which is a good option to capture targeted exposure to high-growth Chinese internet stocks that can offer significant upside on a rebound as sentiment recovers.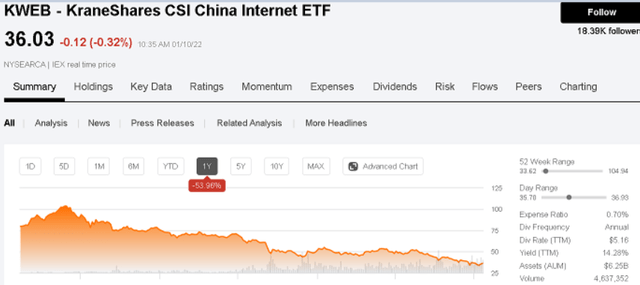 Why Did Chinese Stocks Sell Off?
Compared to a laissez-faire approach to the private enterprise over the past two decades in China, the communist government moved to assert its authority last year. Local e-commerce and internet giant Alibaba Group Holding Ltd (BABA) was one of the most high-profile examples where it was fined $2.75 billion based on perceived monopolistic practices. The company was accused of abusing market dominance by preventing merchants from using competing online e-commerce platforms.
China's "State Administration of Market Regulation" fined all types of tech platforms across Tencent Holdings Limited (OTCPK:TCEHY), Baidu Inc (BIDU), Meituan (OTCPK:MPNGY), among others citing everything from failing to disclose mergers, misleading marketing tactics, and anti-competitive contracts.
There has also been a concern from the government related to data security in regards to private citizens' information potentially falling into the hands of a foreign state. Notably, in July of last year, the ride-hailing platform DiDi Global (DIDI), saw its mobile app briefly suspended with the government pointing to weak data protocols. The company is now in the process of delisting from the U.S. to avoid conflicts. The weakness in equity prices is in part based on fear among investors regarding "what's next?".
This is particularly important as it relates to the KWEB ETF which counts on most of these stocks as top holdings. KWEB with $6.7 billion in total assets under management is one of the largest China-tech specific exchange-traded funds. KWEB has 56 current holdings through a free-float weighting methodology. The fund includes leaders from segments across e-commerce, internet search, social media, payments, fintech, leisure, entertainment. Tencent Holdings with an 11% weighting is the largest position in the fund, followed by Meituan at 8.1%, and Alibaba Group at 6.6%.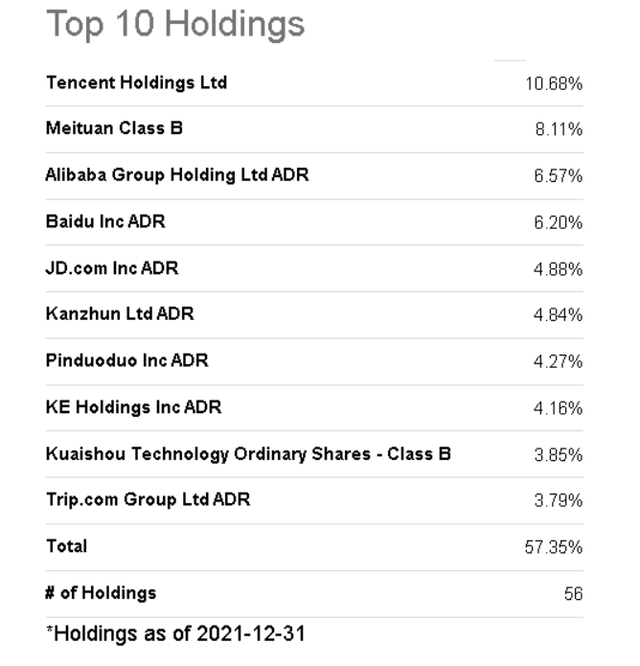 From the chart below, we highlight the widespread weakness over the past year with most Chinese internet stocks effectively in a "bear market". Smaller holdings within the portfolio have suffered an even deeper selloff in what has been volatile trading in recent months.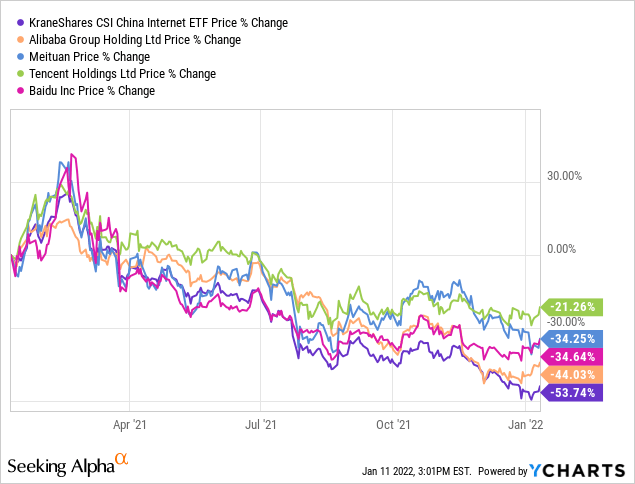 A Method To the Madness
It's important to place the narrative into context. Global tech leaders like Amazon.com Inc (AMZN), Alphabet Inc (GOOG, GOOGL), and even Meta Platforms Inc (META) have all been accused of monopolistic practices and face user privacy concerns. In this regard, some of the actions from China can be seen as taking steps towards regulation other countries have not yet committed to.
The point here is that despite the concerning headlines, many of the actions are based on legal precedence in contrast to what would otherwise be seen as overreaching asset seizures or complete entity nationalization. Even the actions by China to restrict online education providers draw parallels to enforcement efforts by the U.S. Federal Trade Commission penalizing for-profit Universities. In other words, the "crackdown" by China is less extreme than it may appear and consistent with public policies in other countries.
So with that backdrop, we sense that the trading action and valuations in China have gone far beyond underlying fundamentals, more than pricing in some of the worst-case scenarios. Our take is that as rational actors, the Chinese government understands that pushing the envelope too far could end up undermining the stability of its entire economy and financial system. Simply put, outside of "World War 3" breaking out, we see room for the pendulum to swing in terms of sentiment which can help stocks in the region recover.
Long-Term Investment Thesis China Stocks
As an emerging market, China benefits from several economic growth tailwinds. Even with some softer than expected activity levels, China is still expected to grow GDP above 4-5% annually over the next several years representing a positive corporate operating environment.
A major theme within the country's ongoing economic development is an expanding middle class with potentially hundreds of millions of new internet users driving growth. Compared to the U.S. which is recognized as having 86% of the population with internet access, data from China shows that figure is still closer to 70%. Over the next decade, the potential that the internet and smartphone penetration level converges towards global benchmarks can support significant organic growth for a variety of internet services.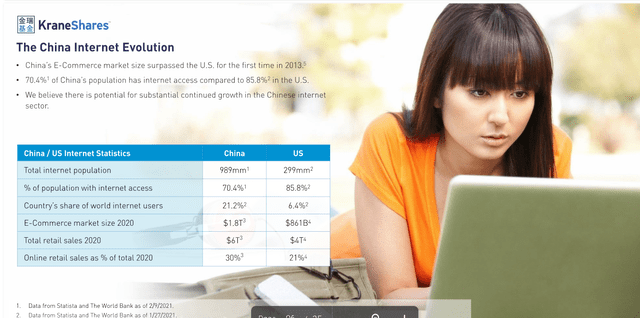 KraneShares, the KWEB ETF sponsor, highlights a dynamic known as the "leapfrogging effect". In essence, compared to the experience in developed markets like the U.S. and European countries had in adopting new technologies, there is an expectation that Chinese consumers will skip some of the legacy steps. Within commerce, as an example, instead of the market first building out a large brick and mortar footprint, the emerging middle class is going straight into e-commerce. The leapfrogging effect is a powerful driver for all emerging markets with implications for several sectors with China as an innovator.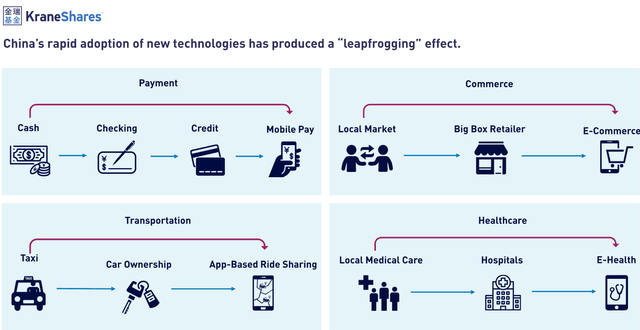 KWEB ETF Price Forecast
We are bullish on KWEB as a top-down macro trade. The attraction in Chinese stocks is that they have been pressured by extremely poor sentiment while the long-term outlook is intact. Consistent with KWEB losing half of its value over the past year, the silver lining is that valuations for many companies have been discounted by a similar amount and now represent buying opportunity for a long-term holding.
For the upcoming Q4 earnings season, better than expected results and positive guidance from the underlying companies within KWEB can help stabilize the market ahead of a possible rally higher going forward. This is in the context of what we view as low expectations proving room for companies to outperform.
One of the early themes in the market this year has been ongoing Covid disruptions with the emergence of the Omicron variant. Reports indicate China is facing a wave of infections that is could add to some volatility across near-term indicators like retail spending and even industrial production.
Still, the building consensus in the market globally is that the highly contagious virus which is being defined by mild symptoms could end up accelerating a global move towards herd immunity considering both increasing levels of vaccinations and the population that has fully recovered from an infection. The setup is that over the next few months, a stronger macro recovery can take hold moving the global economy towards a normalization.
Another interesting dynamic that supports a bullish view towards China is its monetary policy positioning. In contrast to the Fed that has signaled the start of a rate hiking cycle, Chinese authorities have already lowered its monetary policy rate and likely has room for further economic support. We also note that the Winter Olympics are set to start in Beijing in early February. We sense the government will take an all-in approach to ensure a successful event helping to build both consumer and investor confidence.
KWEB currently trading under $40 per share is near its lowest level from the depths of the pandemic crash in 2020. Looking at the price chart, a level between $35 and $40 has represented a strong level of technical support going back to 2017. We like the setup here targeting a rally back towards $50 per share which can represent a 30% upside over the next year as our year-end 2022 price target.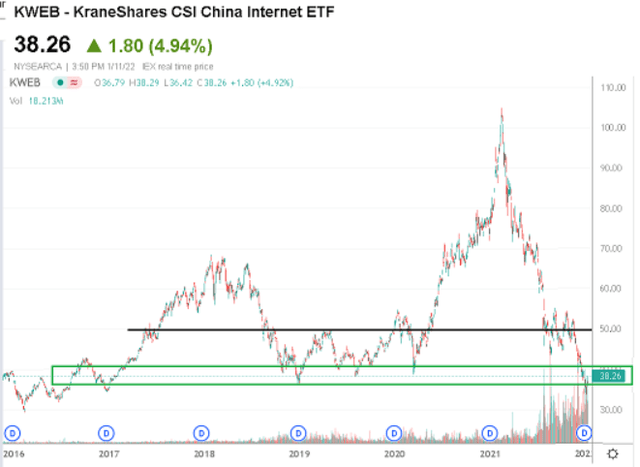 Final Thought
We believe an allocation to KWEB can work in the context of a diversified portfolio for most investors. Without having to pick winners and losers in the region, the ETF with its collection of high-growth emerging market tech leaders can capture a potential rebound in the segment while being less exposed to company-specific risks. We recommend investors allocate any trade over days and weeks to secure a low-cost basis against what may be ongoing volatility.
To be clear, KWEB and broader Chinese stocks face significant uncertainties and remain a high-risk or even speculative market segment. There are geopolitical implications including tensions with the U.S. government that remain exposed to volatile headlines. Further steps by the Chinese government at regulation which can restrict private enterprises including tech companies from normal operations can open the door for another leg lower in local stocks.
China is also exposed to broader macro trends. A concerning slowdown of economic activity either originating from China or its key trading partners can represent downside risks to GDP growth estimates as well as earnings from companies within KWEB.