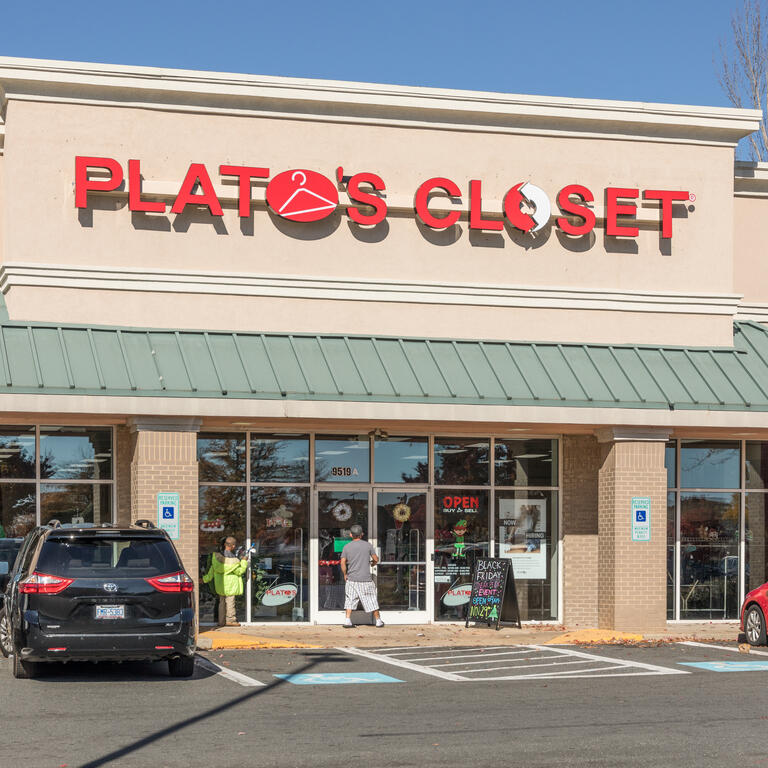 The retail industry can be particularly challenging, especially for smaller players that lack the economies of scale of their larger counterparts. But this doesn't mean that all players in this space suffer. Some companies have innovative operational structures and business models that helps to ensure strong cash flows and steady revenue. One interesting case that matches this description involves Winmark (WINA). Although the company is a consistent operator when it comes to its top and bottom lines, it has, however, grown at only a slow pace on its top and bottom lines in recent years. This limits the upside potential of the company and, given where shares are priced today, I would make the case that shares are probably more or less fairly valued.
An interesting play on retail
Most retailers seem to focus on owning their own retail concepts and only focusing on one or two key brands. But Winmark is an exception to this. The company operates today as a franchisor of five retail concepts that buy, sell, and trade gently used merchandise. Naturally, this is done at a lower price point than what you would anticipate from companies that sell new goods. The first of these brands is called Plato's Closet. Its franchisees buy and sell gently used clothing and accessories that are focused on the teenage and young adult markets. Customers to the store also had the opportunity to sell any of their used items back to the store for subsequent resale.
The next brand that we need to pay attention to is called Once Upon A Child. Like the other brands the company has, this one focuses on buying and selling gently used products, but it focuses mostly on children's clothing, toys, furniture, and more. It does, however, also sell some new products that it picks up from suppliers. For the most part, the company targets ages 12 and younger for their ultimate end user. Play It Again Sports franchisees buy, sell, trade, and consign used and new sporting goods, equipment, and accessories that are used for athletic purposes. Style Encore franchisees buy and sell used women's apparel, shoes, and accessories. And Music Go Round franchisees do the same for musical instruments, speakers, amplifiers, and other related products and accessories.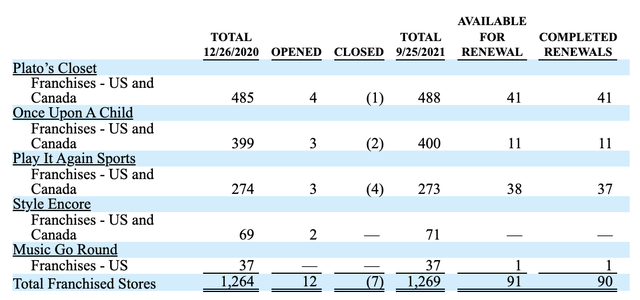 As a franchisor, essentially all of the company's revenue comes from franchise fees that the stores generate. Because of this, systemwide sales are not sales that belong to Winmark, but they are an important factor in determining how much revenue the enterprise ultimately rakes in. Of the five brands in its portfolio, Plato's Closet is the largest, with systemwide sales of $444.1 million in 2020. That works out to 41.3% of the $1.08 billion of total systemwide sales of all five retail concepts the company owns. Next in line is Once Upon A Child, with sales of $311.5 million, working out to 29% of the company's systemwide sales in aggregate. Play It Again Sports comes in third with revenue of $250.4 million, accounting for 23.3% of overall systemwide sales. The other two brands, Style Encore and Music Go Round, are considerably smaller with revenue of $35.8 million and $33.2 million, respectively.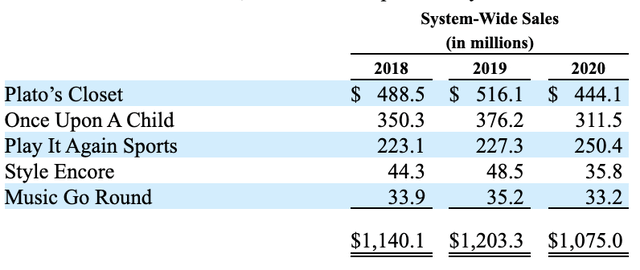 When it comes to the company's physical footprint, the good news is that recent data has shown some growth. At the end of 2019, for instance, the business had 1,256 stores in its system. This increased to 1,264 in 2020 and, as of the end of the third quarter of the company's 2021 fiscal year, it had risen further to 1,269. Of these, 488 are Plato's Closet locations. Once Upon A Child is not too far off with 400 locations. This is trailed by Play It Again Sports with 273 locations, while Style Encore and Music Go Round consist of 71 and 37 stores, respectively.
Although the company has exhibited some growth recently in its physical footprint, overall sales for the business has been modest. Between 2016 and 2019, revenue did climb consistently, but only by 10.2% from $66.5 million to $73.3 million. Then, in 2020, sales dropped to $66.1 million. Fortunately for investors, that decline was short lived. In the first nine months of the company's 2021 fiscal year, for instance, sales came in at $57.8 million. That represents an increase of 17.2% over the $49.3 million the company generated the same time one year earlier.

Profits have followed a similar trajectory, rising from $22.1 million in 2016 to $32.1 million in 2019 before dipping to $29.8 million in 2020. For the first nine months of the 2021 fiscal year, profits rebounded some, climbing from $21.7 million to $28.3 million. Operating cash flow has more or less followed the same trajectory, rising from $26.3 million in 2016 to $50.6 million in 2019. 2020's reading was $42.2 million, while the first nine months of 2021 saw a reading of $35 million compared to the $31.8 million reported one year earlier. Another important metric to pay attention to is EBITDA. And as the chart above illustrates, it too has followed the same kind of path that operating cash flow and profitability have both done.

Management has not provided any real guidance for the current fiscal year. However, if we annualize results experienced so far for the first nine months of its 2021 fiscal year, we should end up with net profits of about $38.9 million, operating cash flow of $46.4 million, and EBITDA of around $54.1 million. Using those figures, we can more or less price the company. Using the 2021 data, the business is trading at a price to earnings multiple of 22.5. That is an improvement over the 29.4 reading that we get if we rely on the 2020 figures. Its price to operating cashflow multiple is 18.9, down from the 20.8 we would get using the 2020 data. And the EV to EBITDA multiple of the company is 16.4. That compares to the 21.1 we would get from the 2020 figures.

To put this all in perspective, I decided to compare the company to some other similar firms pointed out by Seeking Alpha's Quant platform. On a price to earnings basis, these five firms ranged from a low of 5.6 to a high of 8.3. Our prospect came in more expensive than any of these firms. On a price to operating cash flow basis, these firms ranged from a low of 3.5 to a high of 30.5, resulting in Winmark being more expensive than all but one of the companies. Using the EV to EBITDA approach gives us a range of 3.2 to 52.8. On this basis, once again, only one of the five companies was more expensive than our target.
| | | | |
| --- | --- | --- | --- |
| Company | Price / Earnings | Price / Operating Cash Flow | EV / EBITDA |
| Winmark | 22.5 | 18.9 | 16.4 |
| Hibbett (HIBB) | 6.0 | 6.6 | 3.2 |
| Party City Holdco (PRTY) | 5.6 | 11.9 | 52.8 |
| The Container Store (TCS) | 5.7 | 7.9 | 3.9 |
| Sportsman's Warehouse Holdings (SPWH) | 6.8 | 30.5 | 4.4 |
| MarineMax (HZO) | 8.3 | 3.5 | 4.8 |
Takeaway
Over the years, Winmark exhibited a slow and steady increase in sales and cash flows. Its franchise model makes a lot of sense because it reduces how much actual work the company has to engage in and the margins are far more attractive than if it owned all of the stores itself. The COVID-19 pandemic certainly affected the business in the short term, but we are already seeing a nice recovery from that. Ultimately, I suspect the firm will fare well in the years to come. But the slow growth that it exhibited in prior years makes me think that the trading multiples for it are not appropriate. Not only is the company far more expensive than most of its peers, it also looks fairly lofty on an absolute basis. If the business were growing at a more rapid pace, I could be comfortable with the pricing. But with annualized growth in the four years leading up to the pandemic of just 3.3%, I feel as though there are better prospects on the market to be had.