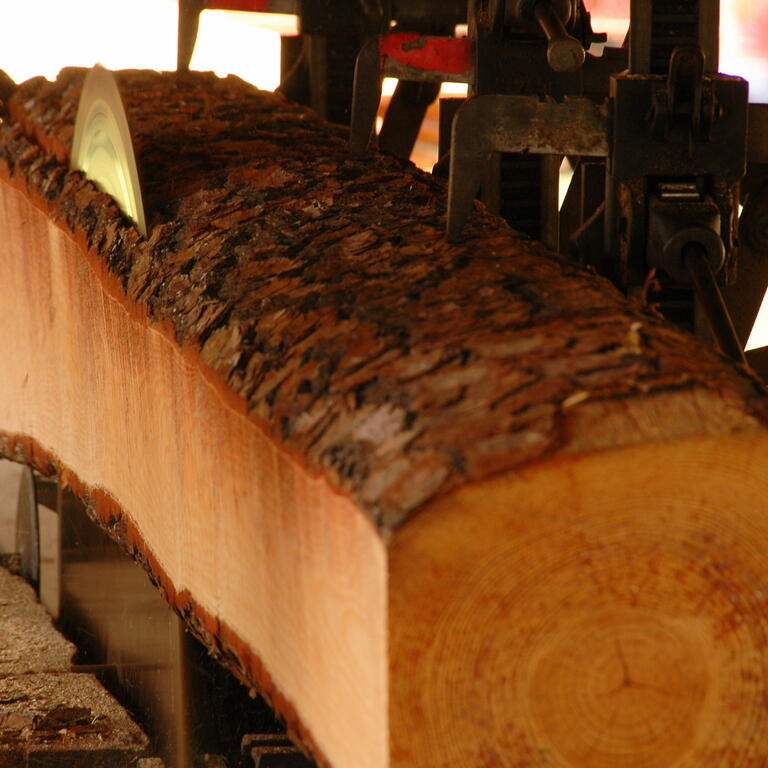 Stocks with high multiples and no earnings but with big dreams stacked on top of great narratives are in the process of re-rating to lower multiples. Meanwhile a whole range of industries are beginning to receive some attention probably long overdue: cyclicals/industrials, energy, banks, etc. Take for example West Fraser Timber (WFG). West Fraser Timber is a company I wrote about last year beginning in May of 2020 – a bit after the big peak in lumber prices which you can see here:
West Fraser: Let The Good Times Roll
West Fraser Timber Stock: The Path Towards $100
West Fraser Timber And The Alligator Jaws Of Value
West Fraser Timber Stock: Bullish Backdrop Ahead Of Q3 Earnings Report
A core element of my thesis throughout my writing on WFG was that, in my view, the market was, has been, and continues to price WFG as though the business is going to return to mid-cycle (or lower) earnings starting tomorrow whereas in my view, earnings will no doubt moderate/normalize but that normalization process will probably take much longer than the market is pricing in. Given the super favorable backdrop in the housing market and the never ended impact COVID is having on logistics/supply chains, etc, it could very well be the case that the lumber market takes WAY longer to normalize than most people think and ultimately may arrive at a new normal mid-cycle level of business substantially higher than the long run historical mid-cycle.
Look what has happened to lumber prices over the past year: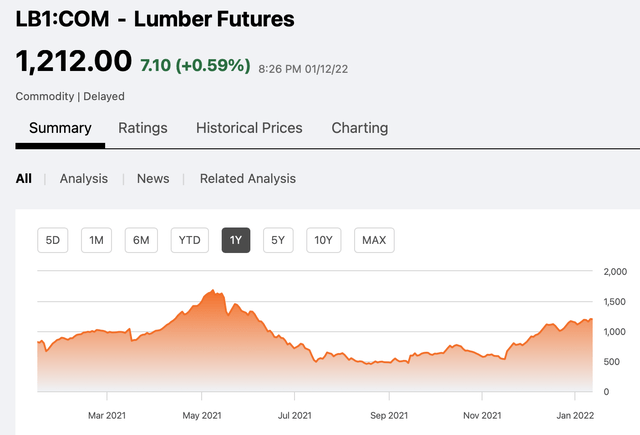 Supply and demand were clearly out of whack in the April/May/June 2021 period sending prices soaring to an unsustainable peak and subsequent decline until finding a floor/support around $500-$600 per mbf level, which mind you is well above the historic normalized average price around $350 per mbf. And after bouncing around at almost double the long run historical average price during Q3, lumber caught a modest bid followed by a massive bid higher in Q4 back above $1,000 per mbf where we currently find ourselves today. In each of these run-ups there seemed to be variety of unique factors ranging from weather, to logistics bottlenecks, and what have you one off circumstances that always seem to come up in a commodity market. Never quite the same from one instance to another, but there always seems to be something in these types of businesses.
Now, if you are planning to build something or do a project, yeah sure, this too shall pass, if you can wait, it always does at some point right? But when it comes to estimating the value of a company like West Fraser Timber, a company competing in a mature commoditized industry, in which the good times invariably revert back to mid-cycle normal levels at some point (as do the doom and gloom times, eventually btw) you need to wake up to the fact that WFG is likely going to generate WAY more than mid-cycle levels of cash flow the whole way down back to normalized mid-cycle levels. Remember historical mid-cycle earnings are oriented around a long run average price of lumber around roughly $350 per mbf and the current futures price is 4x that level! And on top of that WFG is investing the surplus cash back into their own business and balance sheet via optimization projects, acquiring capacity new to them, debt reductions, and reducing shares outstanding which is all to say over time they are becoming a better and better company (a.k.a. mid-cycle earnings capacity, in my view, is probably rising).
As it relates to the near term, I suspect analyst forecasting this recent spike in lumber prices are few and far between which means, WFG is likely going to generate WAY more cash flow than they were banking on when they were estimating 12 month price targets on WFG and price targets are probably going to be raised fairly soon.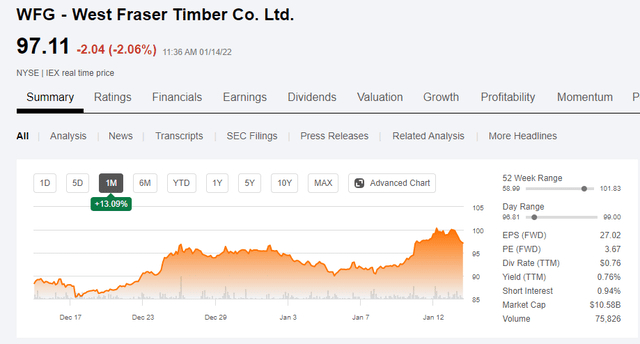 As a matter of fact, recently Scotia raised their price target on WFG from $137C to $143C and CIBC raised their price target from $120C to $150C as and rated the company "outperform". So in USD, that works out to what about $115 to $120 USD per share, considering the stock is trading just shy of $100/share at the time of writing that is roughly a 15-20% upside case from current levels, not so bad.
Bottom line for me is that at 2.2x EV/EBIT, WFG shares are still trading at ridiculously cheap multiple.
Trading for a cheap multiple isn't always a great thing but in this case the management team appears has made some terrific moves and is remaining disciplined from a capital allocation standpoint by buying back debt and repurchasing shares, increasing dividends, and adding to/diversifying production capacity via acquisitions of existing capacity in the United States (vs. building a bunch of new capacity). There are probably some one time adjustments coming due to the adverse conditions in Canada that impacted West Fraser's operations in Q3/Q4 but in general reasonable people have to agree that the business continues to roll forward from the lower left to the upper right and as such I intend to hang on for the ride. In one of my articles on WFG, I applied an analogy I picked up from a nerdy podcast talking about the alligator jaws of value and price and how WFG was increasing in value but the price was essentially flat…now while I would still argue its an alligator jaw situation, the alligator has been looking up! Let's hope it continues.
Thanks for reading.